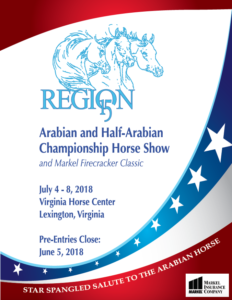 Hello Everyone and Welcome to the Region 15 Championship Horse Show!!
We are pleased to have you join us for our Star Spangled Salute to the Arabian horse. The Show Committee is committed to making sure that your time with us is both fun and satisfying. P l e a s e let us know how we can assist in making your show the best it can be. We have over 270 classes for an impressive group of horses to compete in and a wonderful group of judges who will who will render their opinions and select this year's winners. As in past years, we will have the "Exhibitors Welcome" Dinner Wednesday evening on the Coliseum concourse for all exhibitors. Throughout the Show, we will surprise you with $100 Cash Giveaways as well as non-cash surprises.
We would like to thank our generous sponsors:
MARKEL Insurance Company for sponsoring the morning hospitality of coffee and pastries outside the Barn Office
Equine Athlete Veterinary Services for sponsoring the shows Live Video Streaming.
The Tysinger Automotive Family for contributing to the Regional Scholarship fund and sponsoring the $500 Cash prize for the Supreme Sport
Horse Under Saddle Champion.
Special events this year:
The famous Friday Night Barn Party – New this year – will be held on the concourse of the Coliseum where everyone can socialize and participate in what will be a fun and hilarious
The Goat Wrangling Championship!  New fundraising event.
Rules & information will be located in the show office – please plan to participate!
Saturday Night Session will be held in Wiley Arena outside Under the Lights!
(Weather permitting) Please come and enjoy some Hoer devours and Music at The Cashvan Pavilion prior to the start of the evening session and stay to cheer on your favorites!!
Thank you so much for joining us. We hope that the Region 15 Championship Show will always be a "Must Attend" event on your yearly show calendar.